Alexander McQueen's finale collection of fifteen looks is unmistakably Haute Couture , the attention to detail and precise cuts and finishes are executed to perfection. The color palette is definitely more safe and well-played than previous collections, light grays, royal reds with gold couture detailing, yellows and deep golds, beiges and blacks. Overall the color palette was refined and the collection was exuding Couture and Sovereignty. The collection consisted of floor-length ball gowns, short dresses, coats, and a McQueen classic an androgynous "Tailored Suit".
The detail is impressive, with the tedious folds and pleats on a few dresses, the applique with beads, the tremendous use of embroidery. The images of what appears to be nuns (virgins) and birds are printed onto the garment, a bird's wing is printed on the sleeves of another garment. It was truly a charming and celestial collection, the message was clear, Alexander McQueen is a master of his craft and he is an inspiration for generations of Designer's to follow in his foot steps.
R.I.P Lee Alexander McQueen. We will all miss you.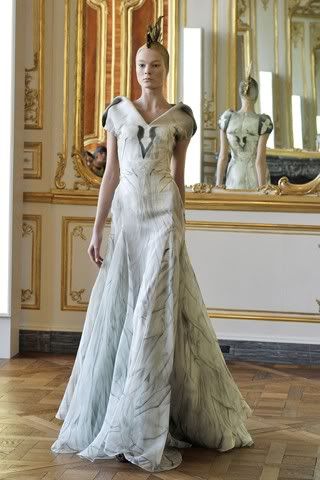 Runway Images: www.vogue.co.uk
View the complete collection
here
.
♥ MADISON thing